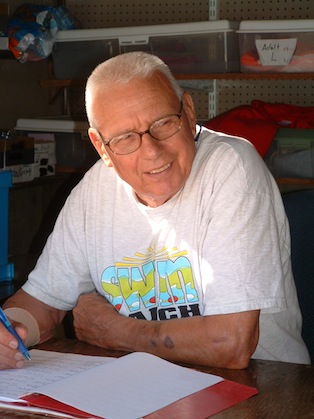 Summer 2019 Fee Schedule
Cost Per Session: $130.00
Non-Refundable Deposit: $30.00
(included in fee)
Details:
Each Session consists of 5 one-hour classes (one hour per day, M-F).
Please see Classes page for specific class times.
Please see Calendar page for session dates.
Registration is limited to one session per swimmer.
Discount of $5.00 for each additional swimmer in the same family.
Each class registration requires a $30.00 non-refundable deposit or full payment at time of registration. Please note that we accept only cash or checks for payment.
Parents will be in the water with Water Babies. Swim diapers are required. All water babies will need to purchase a swim buoy at the Swim Ranch ($20.00).
Alumni Registration is now open for
for Summer 2019!
---
Registration Hours:
Friday, April 5: 8am-8pm
Saturday, April 6: 8am-4pm
Sunday, April 7: 1pm-6pm
April 8-9: 10am-6pm
April 10-26 (M-F only): 4pm-6pm
---
New Swimmer Registration Begins
Saturday, April 27 @ 8am
---
Registration Hours:
Saturday, April 27: 8am-4pm
Sunday, April 28: 1pm-4pm
April 29-30: 4pm-6pm
After April, please register by phone @ 479.521.2932
How to Register
1. Registration forms will be mailed to alumni in the spring. New swimmers will be able to download a registration form about 2-3 weeks after alumni registration begins.
2. After receiving/downloading your registration form, you must either call 479.521.2932 or drive out to the Swim Ranch to register. You must have confirmation of your session/time before mailing in your registration form and deposit.
3. Please note that we accept only cash or checks for payment.
4. Phone registrations are accepted. However, because we take as much time with each family as needed, we may be unable to answer the phone if we are busy with in-person registrations.
5. Registration Hours
Friday, April 5: 8am-8pm
Saturday, April 6: 8am-4pm
Sunday, April 7: 1pm-6pm
April 8-9: 10am-6pm
April 10-26 (M-F only): 4pm-6pm
New Swimmer Registration Begins
Saturday, April 27: 8am-4pm
Sunday, April 28: 1pm-4pm
April 29-30: 4pm-6pm
After April, please register by phone @ 479.521.2932
---